---

- July 20th, 2018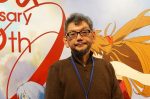 It's been a pretty slow couple of years between announcements and newsworthy tidbits, but we've finally arrived at a new release date for the fourth and final new Evangelion film. We've known that the film was in production but weren't sure if it was in some limbo or what the progress was. Now it seems Studio Khara feels confident in a year 2020 release of the film in Japanese theaters.
It's been reported that at the screening of Hosoda's Mirai no Mirai, a teaser was shown before the movie on Friday that revealed that Final will have a release date of 2020. The official website hasn't been updated with this information yet.
The Evangelion teaser was apparently unexpected as a lot of people have been tweeting the news but it's great that we finally have a date to look forward to. The official site and social media accounts would probably be giving us more updates in the days to come.
Good times.
UPDATE (7/20/2018): The official Evangelion website published a <a href="http://neweva.blog103.fc2.com/blog-entry-5560.html">news post</a> making this official.