---

- November 17th, 2016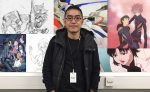 Last September Anno mentioned that he's already working hard on the fourth and final movie of the new Evangelion theatrical release (Rebuild) since finishing up the work he was doing with Shin Godzilla, at the end of an interview with Takeshi Honda at the October 2016 MCM London Comic Con, he confirms that they are working on it.
Finally, do you have a message for anime fans – and Evangelion fans – here in the UK?

We're actually working on the new Evangelion film right now. We're working hard and it'll come out eventually, so thanks for all of your patience – please continue to be patient, because it's going to be the last episode.

Also, for anime fans in the UK – please watch Evangelion!
Nothing much, but at least it's confirmation.