---

- September 29th, 2016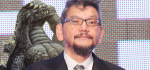 We know Anno has been spending his time on the Shin Godzilla project with Toho and had apologized to Evangelion fans about the delay. Now that he's finished with the project and seemingly not anticipating any involvement of future Godzilla projects with Toho in the near future, it seems his focus is back on the final movie.
In an Eiga.com article, when asked about the fourth and final Evangelion movie, he replied: "I'll work hard on it. I mean, I'm already working hard on it".
Though there's still no official timeline on the development, or even what the current status of the Evangelion project is, at least it seems the captain is back at the helm.
(Image credit: http://www.animemaru.com/)