---

- April 17th, 2020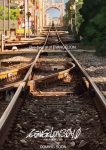 The official Evangelion site was updated today with a new front page, some news entries and an updated staff/credits. The front page was updated with a new image that can be viewed in both Japanese and English that shows train tracks and Shinji off in the distance (this is apparently Ube Shinkawa station, the main train station in the city where Hideaki Anno was born, ht: @tsurikawa_pc).
There were a few new news articles in the news section. They announced the delay of the 4th and final Evangelion Theatrical Edition (Rebuild) movie which was originally slated for a June 27th, 2020, premiere, due to COVID-19 concerns. It's unknown how long the delay will be but it will probably depend on the changing conditions of the corona virus outbreak.
Regarding the "Shin Evangelion Theater Version" that was scheduled to be released on Saturday, June 27, 2020, due to the unprecedented situation in Japan and overseas due to the expansion of new coronavirus infectious disease (COVID-19) As a result of careful examination, we decided to postpone the release date.
Hideaki Anno also posted a letter expressing gratitude for the healthcare workers and other staff fighting the COVID-19 disease, apologizing for the delay due to an unprecedented situation, and encouraging everyone to persevere through the current situation. And also that the first 3 movies will be released for free: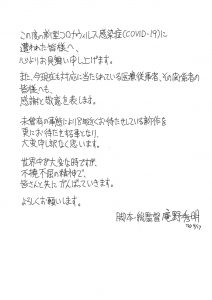 As for the last part, there was also a quick note about the first 3 movies being made free to watch. On April 18th people will be able to watch these movies from the EVA-EXTRA app and on the 20th, they will be made available for free through the Khara Youtube channel. 
This shouldn't exactly come as a surprise since the better part of the world has been doing social distancing and quarantine to some degree and Japan is one of those places. People who purchased advance tickets for the 3.0+1.0 movie will still be able to use them when the new release date is announced. There's also been plenty of discussion about the new movie poster.
UPDATE: @scenik8 has posted a translation of Anno's letter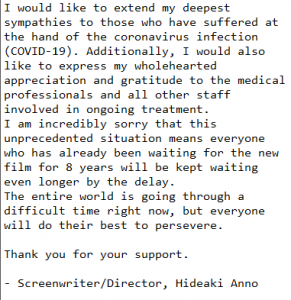 Links: