---

- August 11th, 2014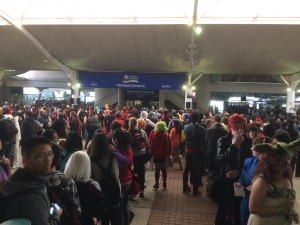 SMASH (Sydney Manga and Anime SHow) this year was the biggest yet, at a new location (again) and spread over two days for the first time, and including guests Kotono Mitsuishi (Misato Katsuragi Neon Genesis Evangelion, Usagi Tsukino Sailor Moon), Toshihiro Kawamoto (Co-founder and Director of Studio Bones), and Reika (World Famous Cosplayer).
This year it was held at Rosehill Gardens, a racecourse, but a location big enough to accommodate the hundreds of stalls and the thousands of people that came to the event. The show was spread across 3 different enormous buildings, which it needed to be as each room was filled with stalls and booths.
Kotono Mitsuishi did a number of interesting panels in which she discussed Sailor Moon, Evangelion, and many other interesting things.
To get my full rundown of the event and to see all the photos head over to my website Fazmotron.com or check out the forum post.