---

- November 19th, 2013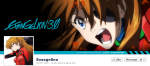 Today, Funimation announced on their Facebook page that the release date for Evangelion 3.33, You Can (Not) Redo, will be (subject to change) February 18th, 2014. They also provided a pre-order link at RightStuf. The only details so far is that it's rated 14+ and the DVD costs around $18 and BD around $21 from RightStuf.
So one interesting thing to note is that back in October, the Walmart site already had it listed, with the release date of February 18th (their site is also accepting pre-orders). So I guess this time the leak was right.
Also, Funimation's official twitter accouncement:

We have a release date, & pre-order link, for #Evangelion 3.33! Available on Feb. 18th. Here's the link: http://t.co/mR5G8psJkg

— FUNimation (@FUNimation) November 20, 2013
Update: As of November 21st, Funimation deleted both their tweet and Facebook post regarding the 3.33 release date.