---

- May 30th, 2012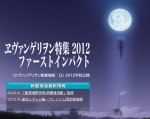 The Evangelion website on Yahoo Japan got a new face-lift today along with the promise of delivering news about the upcoming Evangelion 3.0 movie expected this autumn. There's not much interesting content or news on the site right now but hopefully this is the precursor to the much anticipated announcement of a solid release date for 3.0. The last time the site was updated was on July 2011.
Right now, there's sections for info about the movies, characters, the Evangelion Units, the Angels, and the staff and company (GAINAX and khara). There's also some sections for Evangelion merchandise, that are essentially links to products at the EvaStore; a cosplay contest at the Cosplay Festa at Tokyo Dome City; the Eva racing team and photos of the race queens (one thing notable here is that it seems we've gotten a new Shinji); and a section for Sadamoto's manga and other the various spin-off manga. Oh, and you can also vote for your favorite TV episode.
Hopefully, it won't be too long before the site gets some big updates or when there's some real news about 3.0.