---

- May 29th, 2012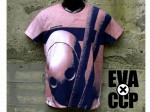 As the still unannounced theatrical release date of the upcoming 3.0 Evangelion movie approaches, the number of new advertisement/product collaboration campaigns seem to grow at a pace not seen in the previous releases. Aside from the normal Evangelion products that we'd normally see at places like Eva Store, the GAINAX Shop, Radio Eva, Eva Custom or the Eva T store, these campaigns and collaborations seem to coincide with an advertisement push for the upcoming 3.0 movie.
There's the ANA Airline x Evangelion:
There's the big Schick x Evangelion campaign:
And like the 2.0 campaign, 3.0's also got it's own SH-06D Nerv Phone created by Sharp and released by NTT/Docomo.
Uniqlo shirts, UT x Evangelion (although this one isn't new, Uniqlo also did a campaign of shirts for 2.0):
There's also the Hello Kitty x Evangelion collaboration which will bring T-shirts, stationary, etc. (the usual Hello Kitty stuff):
Recently, the Pacific Baseball League x Evangelion put out a bunch of shirts that cross their baseball teams and Evangelion.
And the newest seems to be a CCP x Evangelion T-shirt collaboration. CCP (short for "Character Contents Production) is a Japanese manufacturer of vinyl toys and figures and CCP x Eva has been around for a couple of months at least with their 4th Angel (Sachiel) figure, now they've released a new line of T-Shirts and jewelry:
Let me know if there's anything that I've missed.
Update:
We've got a new collaboration, this time with JRA (Japan Racing Association), who mainly deal with horse racing and regulation. Here's a couple of promo's and ads: