---

- February 7th, 2010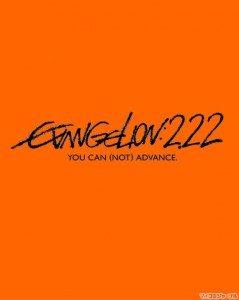 It's Official, Evangelion 2.22 is listed to have a DVD (KIBA-1773 ) and BluRay (KIXA-35) release on May 26th, 2010. There will be new battle scenes and have a running time of 108 minutes. The BluRay will have 1080p AVC video with Dolby TrueHD 6.1ch Japanese audio, the DVD will have Dolby Digital / 6.1 Surround EX audio, neither will have subtitles (there will also be 2ch audio tracks). The BD will sell for around 6,090 円 and the DVD has a list of 5,985 円.
The DVD seems pretty expensive even for Japanese DVD prices, so given the choice, it seems going with a BD is the way to go. Good news for people who are staying spoiler-free waiting for a real release. Only 3 more months to go!
Update: Must have missed this in the announcement on the Evangelion website. ィルムコマ (Film Frame) is listed as one of the extras. Not exactly sure what a "film frame" is, it may be clips of the actual film like in the Evangelion 1.01 release. It's included in both the DVD and the BluRay.