---

- March 4th, 2021
Aeon Cinema is going to be playing Shin Eva for 21 showtimes on the first day alone, which means it's playing in all venues even with lockdown business hours!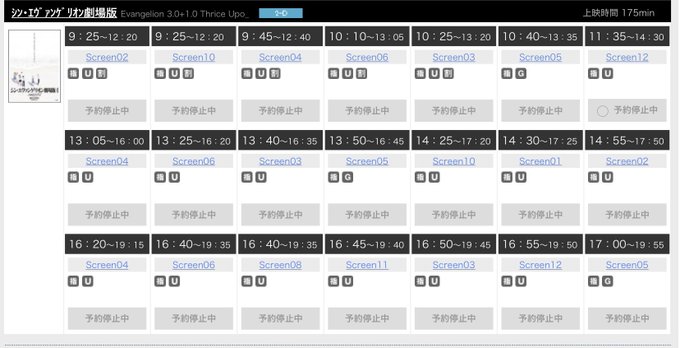 As noted by user @gotamai, this makes consecutive repeat viewings easier. The 175 minutes in the schedule isn't some sort of expanded Shin Eva runtime, but rather an extra 20 minutes to allow patrons to exit and staff to clean/sanitize the movie theaters between screenings.
Shinjuku Wald 9 theater posted a special message in anticipation of Shin Eva's release on their website –
GhostlyOcam offers the following translation on our forum, revealing a very touching message –
To everyone who loves Evangelion.
The wait has been long, but we're happy and a bit lonely when that time finally comes.
Because just like for everyone, "Eva" is also very special to us. So let's see it together, until the very end.

"Thank you, all of EVANGELION."
– Shinjuku Wald 9

Shin Evangelion Theatrical Edition: || / Evangelion: 3.0+1.0 Thrice Upon a Time
In theaters March 8, 2021.

Original from Shinjuku Wald 9 website; Translation via GhostlyOcam
In addition, JoelCrNeto reports that the T.JOY cinemas have a message board for people to thank the Evangelion franchise, image below.
As always, thanks to our ever-vigilant forumgoers for keeping an eye on social media!
This is the end of an era, folks, and it's coming. If the messages from Shinjuku Wald 9 and T.JOY cinemas are any indication, expect moviegoers to bring along their tissues.