---

- March 11th, 2014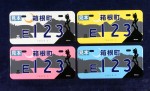 In an effort to encourage tourism and capitalize on its ties to Evangelion, the town of Hakone will soon be issuing Evangelion-themed license plates to residents.  You may know that in Evangelion, Tokyo-3 is located where Hakone used to be.
I'm reminded of something one of my friends said of their first trip to Japan.  He said that as soon as you get off the plane, Evangelion is everywhere, as if it has become the unofficial mascot of Japan.
Hakone has already put together a kind of map and tour of locations of Tokyo-3 and their corresponding locations in real life Hakone.  And there are a number of other examples of how Evangelion is everywhere in Japan.  You've got entire stores that sell Evangelion merchandise, the Evangelion Racing Team, Evangelion car charging stations, an entire Evangelion attraction at Fuji-Q Highland… they've even used Evangelion to promote horse racing.  And that's just naming a few.
If this trend continues, I'll have to put together a convention panel titled "Japan loves Evangelion too much".
Source: Asahi Shimbun