---

- October 23rd, 2013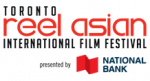 There's going to be a screening of Evangelion 3.0 You Can (Not) Redo at Toronto's Reel Asian Film Festival on November 8th at 11:35pm, though the film festival spans the 5th through the 16th. The screening will be at:
The Royal
608 College Street,
Toronto, ON M6G 1B4
The film will be screened in Japanese with English subtitles.
Though it seems kind of short notice, it will be Toronto's premiere of the 3rd Evangelion movie.