---

- June 19th, 2011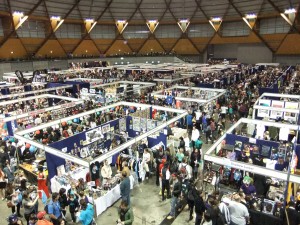 The Supanova Pop Culture Expo in Sydney this weekend was apparently a record breaker, with pre-sales for the Saturday reaching over 20,000.
Supanova specializes in science fiction, Anime and manga, as well as several other things such as wrestling, with live wrestling performances appearing throughout both days. This year featured a number of special guests, but the ones we are most interested in are Yuko Miyamura, Tiffany Grant and Matt Greenfield. I attended on the Sunday, where Miyamura gave a panel and Q&A session with her translator early in the day, and Tiffany and Matt hosted a separate Q&A shortly after midday.
Miyamura was asked, and discussed many different things during her panel, including how much she enjoys living in Australia with her husband who is studying to be a ninja, how she is scared of ants (although she enjoys following their trails), and touching briefly on her soon to be born baby. When asked whether or not she knew how far along the production was for Q, she said that she didn't know, and seiyus like herself are not often told until soon before they are needed for their voices, and then they are only told which month they will need to keep free in order for recording. Furthermore, she said that when Eva: 2.0 was being made, the production staff pushed back the start of voice recording twice because of production delays, and she surmised that the same fate is most likely to befall the production schedule of Q.
At the end of the panel, Miyamura dubbed a short scene from EoE live for the audience, a poor quality recording of which can be found here: Yuko Miyamura Live Dubbing EoE Sunday Supanova 2011
The Grant & Greenfield panel also covered many topics. When Matt was asked about the Live Action Evangelion Movie he said that the film was still in the works, at a studio, and that he was nolonger regularly involved in the process, having only worked with Wetta in order to develop the concept of the show for the pitch to the studio. He said that Joseph Chou is now involved with the project, and that he believes the studio is now shopping for a director. The full Q&A is here to listen to, again in average quality, with the information about LAEM appearing at about 14:20: Tiffany Grant & Matt Greenfield Sunday Supanova 2011
There was an enormous amount of cosplay at the event, but very few Evangelion characters, the clear favourite appeared to be Doctor Who.