---

- April 23rd, 2011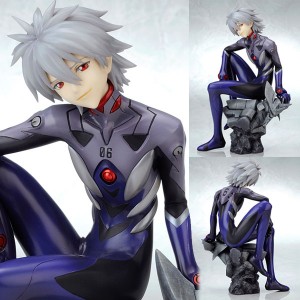 Good news for all you Kaworu fan boys and girls out there, Kotobukiya is adding to their 1/6 scale Pilot+Eva series with a Kaworu, the first male pilot to appear. Kaworu is wearing his redesigned Rebuild plugsuit, and sits atop a stone bust of the Mark 6 Evangelion, which appears in Evangelion 2.0: You Can (not) Advance.
The series so far has included Rei atop Unit-00, Asuka atop Unit-02, and Mari wearing her pink plugsuit atop Beast mode Unit-02. There has also been a 1/6 scale Misato released, but it is unclear whether or not this figure is included in the same series.
The Kaworu figure is set for release in October this year, and will retail for approximately ¥6,800.