---

- October 15th, 2010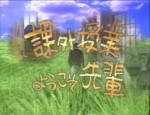 Sometime in 1999, after Neon Genesis Evangelion finished and during the pre-production of KareKano, Evangelion's directory Hideaki Anno appeared on a TV show on N.H.K. called "Welcome Back for an Extracurricular Lesson, Sempai!", which features Japanese celebrities revisiting their old stomping grounds and teaches a class in their old primary school. In this episode, Anno returns to Ube, a factory town in Yamaguchi Prefecture, to teach kids about animation.
Along the way, he talks a bit about himself, about Evangelion, about art, and about the town he grew up in. This is particularly interesting when one considers that he has just come from a dark time in his life, especially right after the success/controversy caused by Evangelion. One of the first things he admits in the show is how he is deathly afraid of children, as he is about to walk into a classroom filled with them and meeting them for the first time. From time to time, it seems like Anno is being quick with his replies to questions, yet sometimes it's clear that he's enjoying himself.
Here's are some random screenshots of the episode.
When Anno shows up to the school and meets the kids, he gets to see what the kids had been working on before his arrival; pictures and descriptions of what the kids thought Anno was like, with greatly varying degrees of accuracy. This was a pretty fun segment.
At some point, the class is divided into groups and one group goes to see Anno's parents to interview them. They show some of his paintings and pictures when he was young, and apparently, he doesn't like insects.
Another group has gone to meet with some of Anno's childhood friends to interview them. Anno liked to draw manga a lot when he was a kid, no big surprises there.
Later, as we see various parts of Ube, Anno talks about his hometown, about the recession, and what it was like when he was a kid. He also mentions how he loves the telephone poles and wires (not surprised).
Near the end of the episode, Anno seems pretty relaxed. All the students are putting together their final animations, which will later be strung together in one continuous reel, and in the background, Anno is playing around on one of the camera dollies.
Sorry, this has taken so long to post (it's been like 3 years). Unofficially coordinating with people on the internet that all have full-time jobs sometimes yields these long waits. Most of the people who already knew about this was able to find a copy of it from somewhere or another, but over the course of nitpicking, re-encodes, re-translations, re-timing the subtitles, trying to put together video offerings on this site, and finally getting tired of it all and just putting it on the internet, we have for you 2 copies of what was released on DVD via Animeplay magazine. One is a softsubbed MKV with x264 video (624×480), vorbis 2 channel audio, SRT subtitles (new translation) and the original VOB subtitles that appeared on the DVD. The other is a hardsubbed AVI with XviD video and mp3 2 channel audio. You can download them directly from this site or use a torrent.