---

- July 10th, 2010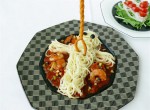 The Great Hotel Hakone, part of Prince Hotels and Resorts, located in the Hakone region of Japan, will start serving a set of lunches (between 11:30am to 1:00pm) with an Evangelion theme for 1,000 円.
There's the "Lilith Pescatori" (pictured to the right), an "Adam Beef Curry", and a "Garlic Char-Siu Ramen" (no idea how that's Evangelion related, maybe the eggs are A-10 headsets?). There will be a limit of 15 dishes per day. Aside from fancy lunches, the hotel has a golf course, tennis courts, hot springs, and all the other stuff you'd expect a nice hotel would have.
It seems even though the locals in Hakone protest, the tourism industry is still willing to tap into the lucrative marketshare of Evangelion fans. Who can blame them? They also sell Rei Ayanami and Asuka straps for 840円 at the hotel's gift shop.