---

- August 12th, 2009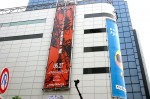 You can be a proud owner of a huge 3.5 meter by 18 meter Evangelion 2.0 weather resistant vinyl poster signed by Kazuya Tsurumaki. It was hung outside of the building at 109 Shibuya in Tokyo to promote the new movie. It is being auctioned for charity on the Japanese Yahoo Auctions site and the auction ends on August 19th. As of this posting, the current bid is 30,500円. Pretty steep, but this is a one-of-a-kind item and considering some 9 inch tall figures can run up to 15,000円, it's not a ridiculous price.
These pictures were taken from the auction site, posted by jcv_charity, I'm reposting/mirroring the pictures here in case the auction page disappears.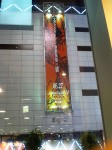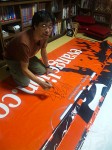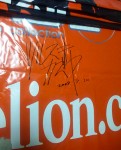 Along with this giant poster, a smaller, 1.5 meter by 2.78 meter poster featuring plugsuit clad Shinji, Asuka and Rei, is also up for auction. Also made of weather resistent vinyl, this one is signed by Hidenori Matsubara, the animation director for the rebuild films. Strangely, this smaller poster (probably because it features the beloved pilots) has a current bid of 101,000円.
These pictures are also taken from the auction site, posted by the same user.